Download a free trial copy of Starry Night Backyard and explore the night sky yourself.

SPACE.com offers convenient online ordering 24 hours a day, every day.
"Starry Night is an excellent aid for exploring the heavens...a superb, well documented program that will transform you into an expert in no time."
--ZDNet, 5 star rating

---
"There are few experiences as invigorating as being out in the countryside standing under a canopy of star on a still night. Starry Night conveys that feeling better than any other desktop planetarium"
--New York Times

StarGazer
Each week most PBS stations air Star Gazer with Jack Horkheimer, the world's first and only weekly TV series on naked-eye astronomy. The images on this page illustrate the show for the week of Monday, January 8, 2001.
Which Season Is The Longest? And Which Is The Shortest? Spring, Summer, Autumn Or Winter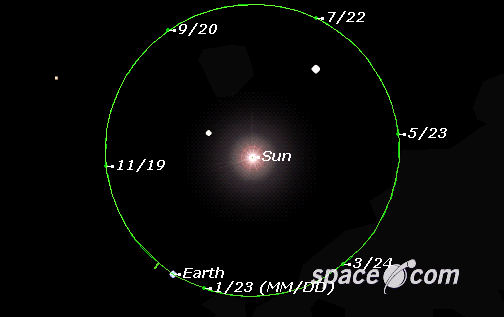 Because the Earth's orbit is not a perfect circle, the seasons differ in length. The mark on the orbital path just to the left of the Earth indicates the Earth's closest approach to the sun, which occurs in January. When the Earth is closest to the sun, it is moving fastest, so winter is the shortest season.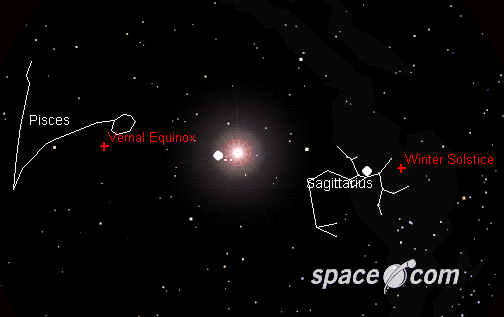 Winter in the northern hemisphere is defined as beginning when the sun reaches the winter solstice (in the constellation Sagittarius) and ending when the sun reaches the Vernal Equinox (in Pisces). It lasts 89 days.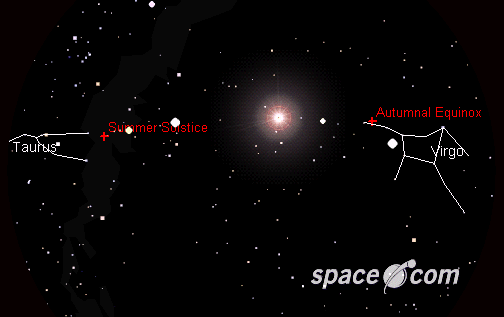 Summer begins when the sun reaches the summer solstice in Taurus and ends when the sun reaches the autumnal equinox in Virgo. It is the longest season, lasting 94 days.