Starry Night This Week

Each week most PBS stations air "Jack Horkheimer: Star Gazer", the world's first and only weekly TV series on naked-eye astronomy. The Starry Night images on this page illustrate the show for the week of Monday November 30th, 2009. You can view the complete show script, or watch a RealPlayer video of the show.
Dates To Remember In December:
Several Cosmic Goodies Await Your Viewing Pleasure
On December 1, watch the full Moon rising after sunset. December gives us two full Moons this year! Watch for the second one on December 31st, also just after sunset. (Hint: when the Moon is full, it always rises right around sunset.)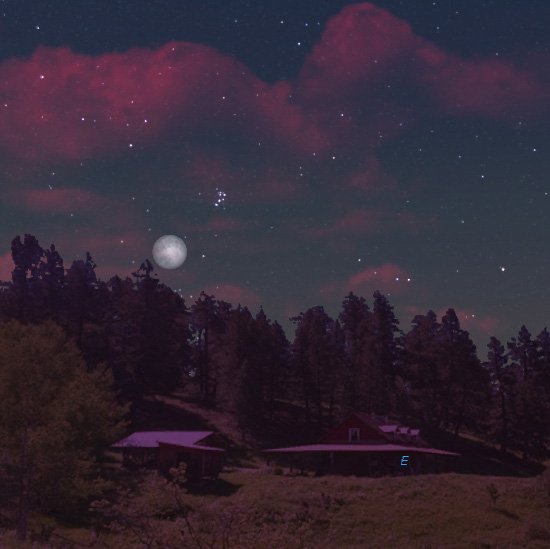 Still want to know more?
Click here for an archive of the past shows.

Introduce yourself to the wonders of the night sky with Starry Night Backyard. Astronomy software so realistic and easy to use that learning your way around the night sky has never been easier. Learn how to identify planets, stars and constellations. View the heavens from your own backyard or anyplace on Earth. Blast-off and explore the solar system, ride a comet or check out the view from the International Space Station. Do it all using Starry Night Backyard.
And for those whose interest in the night sky goes even deeper, you'll want to get the new advanced Starry Night Pro. With extended data sets, dozens of new Pro-only features and Internet support not found in any other program you'll wonder how you ever observed without it!
See the wonders of our Universe in all its three-dimensional glory. Pilot a starship through 700 million light years of space and 30,000 galaxies. See what's really out there, with Deep Space Explorer.
Feel free to send us an email if you have any questions about Starry Night that you can't find answered here on our website. We also welcome your feedback and suggestions.