Download a free trial copy of Starry Night Backyard and explore the night sky yourself.

SPACE.com offers convenient online ordering 24 hours a day, every day.
"Starry Night is an excellent aid for exploring the heavens...a superb, well documented program that will transform you into an expert in no time."
--ZDNet, 5 star rating

---
"There are few experiences as invigorating as being out in the countryside standing under a canopy of star on a still night. Starry Night conveys that feeling better than any other desktop planetarium"
--New York Times

StarGazer
Each week most PBS stations air Star Gazer with Jack Horkheimer, the world's first and only weekly TV series on naked-eye astronomy. The images on this page illustrate the show for the week of Monday, June 25, 2001.
Earth Farthest From The Sun On The 4th Of July! The Moon Pays A Visit To Dazzling Mars! And A 4 Planet Pre-Dawn Tease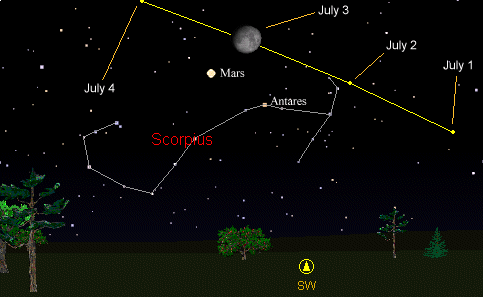 A full moon moves by Mars and Antares in early July, coming closest on the night of July 3.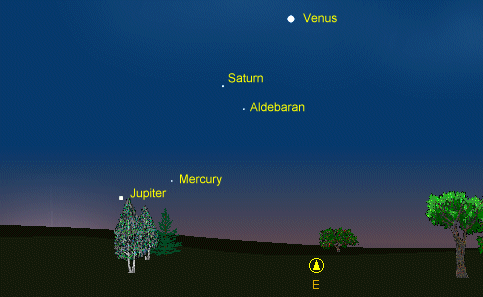 Look east before sunrise in early July and you will see 5 dots almost in a line. Four of them are planets, while the fifth is the bright star Aldebaran.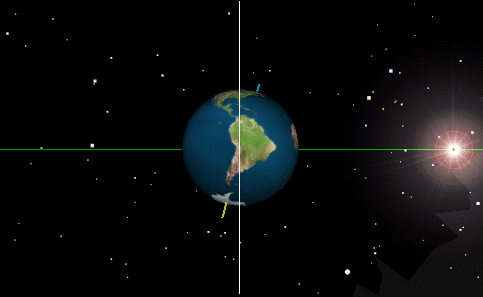 Although the earth is at its farthest from the sun in July, it is summer north of the equator. This is because the north pole is tilted towards the sun, so the sun's rays shine at a more direct angle on the northern hemisphere.