Download a free trial copy of Starry Night Backyard and explore the night sky yourself.

SPACE.com offers convenient online ordering 24 hours a day, every day.
"Starry Night is an excellent aid for exploring the heavens...a superb, well documented program that will transform you into an expert in no time."
--ZDNet, 5 star rating

---
"There are few experiences as invigorating as being out in the countryside standing under a canopy of star on a still night. Starry Night conveys that feeling better than any other desktop planetarium"
--New York Times

StarGazer
Each week most PBS stations air Star Gazer with Jack Horkheimer, the world's first and only weekly TV series on naked-eye astronomy. The images on this page illustrate the show for the week of Monday, March 5, 2001.
Venus Makes A Spectacular Exit and Entrance!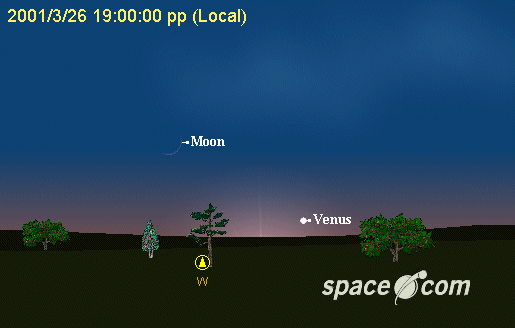 The week of March 26-30 allows keen-eyed observers to see Venus both at sunset and sunrise. On the night of March 26, Venus is just to the right of the setting sun, ď1209moon.gifĒ. A crescent moon is also in view, to the sunís upper left.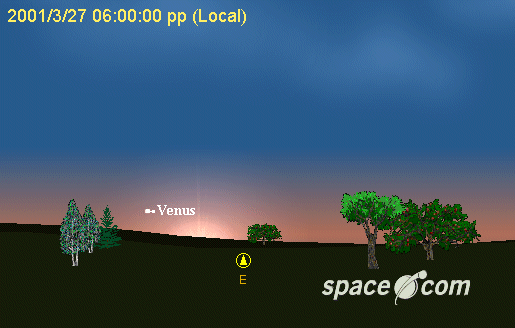 12 hours later, Venus is again visible just before sunrise, but this time itís on the sunís left! How can Venus be to the right of the sun in the evening and to the left of the sun in the evening? Click here to watch a QuickTime movie (1.1 MB) to find out!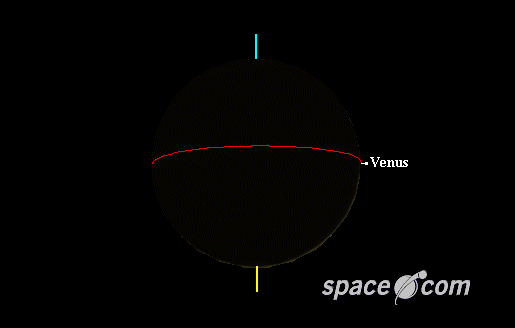 Venus is at its absolute thinnest during this week. Only the faintest sliver of a crescent can be seen, on the lower right of this image.