Download a free trial copy of Starry Night Backyard and explore the night sky yourself.

SPACE.com offers convenient online ordering 24 hours a day, every day.
"Starry Night is an excellent aid for exploring the heavens...a superb, well documented program that will transform you into an expert in no time."
--ZDNet, 5 star rating

---
"There are few experiences as invigorating as being out in the countryside standing under a canopy of star on a still night. Starry Night conveys that feeling better than any other desktop planetarium"
--New York Times

StarGazer
Each week most PBS stations air Star Gazer with Jack Horkheimer, the world's first and only weekly TV series on naked-eye astronomy. The images on this page illustrate the show for the week of Monday, October 30, 2000.
The Farthest Thing In The Universe You Can See With The Naked Eye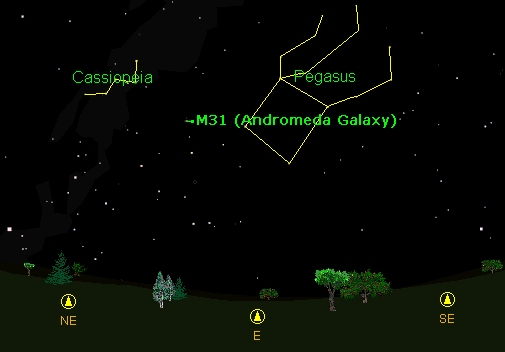 The month of November finds the Andromeda Galaxy high in the eastern sky in the evening, sandwiched between the "W" of Cassiopeia and the Great Square of Pegasus. This picture is taken about an hour after sunset. As the night moves on, Andromeda will climb higher in the sky towards the zenith.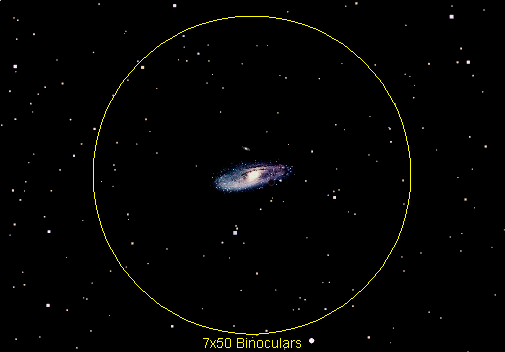 As we zoom in to look at Andromeda through a pair of binoculars, the fuzzy patch begins to resolve itself into a distinct object.
Zooming in even closer shows the Andromeda Galaxy in all its glory, along with two smaller galaxies, M110 and M32. These galaxies are satellites of Andromeda, much like the Magellanic Clouds are satellites of our Milky Way galaxy.