Download a free trial copy of Starry Night Backyard and explore the night sky yourself.

SPACE.com offers convenient online ordering 24 hours a day, every day.
"Starry Night is an excellent aid for exploring the heavens...a superb, well documented program that will transform you into an expert in no time."
--ZDNet, 5 star rating

---
"There are few experiences as invigorating as being out in the countryside standing under a canopy of star on a still night. Starry Night conveys that feeling better than any other desktop planetarium"
--New York Times

StarGazer
Each week most PBS stations air Star Gazer with Jack Horkheimer, the world's first and only weekly TV series on naked-eye astronomy. The images on this page illustrate the show for the week of Monday, September 25, 2000.
The Summer Triangle Gives Way To the Autumn Square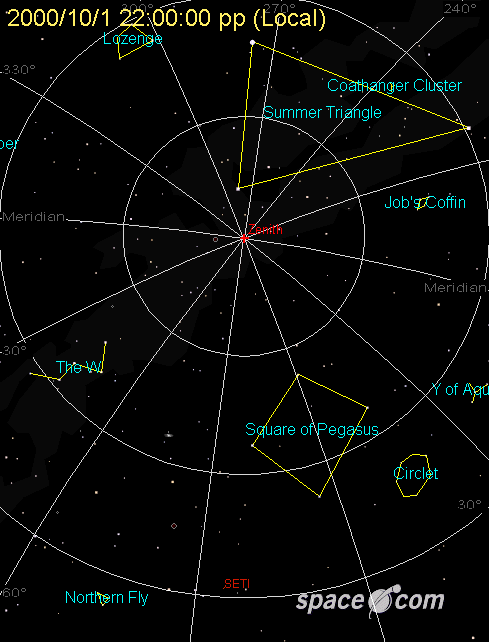 On October 1 at 10 PM, three bright star groupings are close to the zenith. The Great Square of Pegasus is to the east-southeast of the zenith, the "W" of Cassiopeia is to the northeast, and the Summer Traingle is to the south-southwest.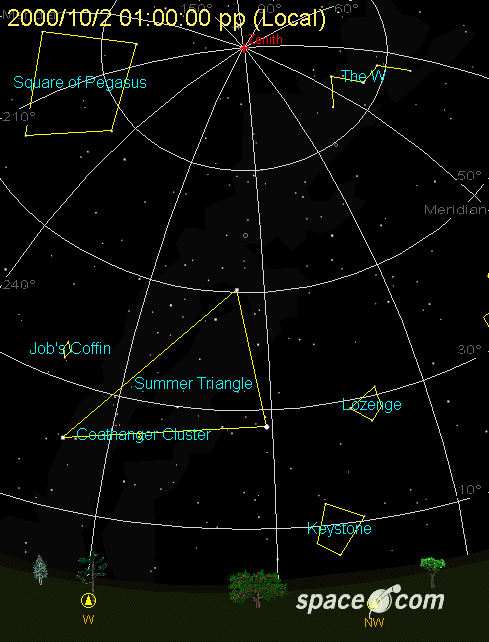 Three hours later at 1 AM, the Great Square of Pegasus and the "W" are still high in the sky, while the Summer Traingle is now low in the west.
Click here to view a QuickTime movie (1.8MB) showing how the constellations near the zenith change from September 1 to November 1. Each frame in the movie shows the sky at 10 PM, prime observing time for stargazers.