Download a free trial copy of Starry Night Backyard and explore the night sky yourself.

SPACE.com offers convenient online ordering 24 hours a day, every day.
"Starry Night is an excellent aid for exploring the heavens...a superb, well documented program that will transform you into an expert in no time."
--ZDNet, 5 star rating

---
"There are few experiences as invigorating as being out in the countryside standing under a canopy of star on a still night. Starry Night conveys that feeling better than any other desktop planetarium"
--New York Times

StarGazer
Each week most PBS stations air Star Gazer with Jack Horkheimer, the world's first and only weekly TV series on naked-eye astronomy. The images on this page illustrate the show for the week of Monday, April 3, 2000.
The Great Mars/Jupiter/Saturn Sky Show Reaches Its Climax!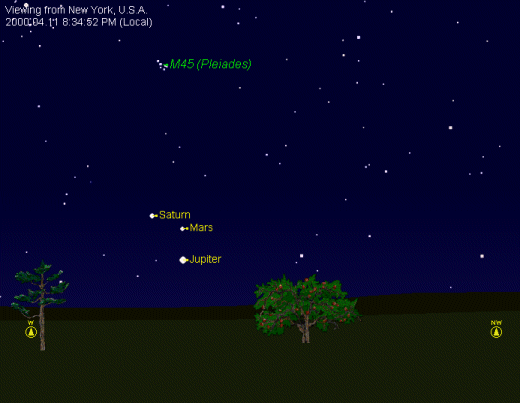 On April 11, Mars, Jupiter and Saturn lie close together in the evening sky to the west-northwest. The famous Pleiades star cluster, also known as "The Seven Sisters", hovers above.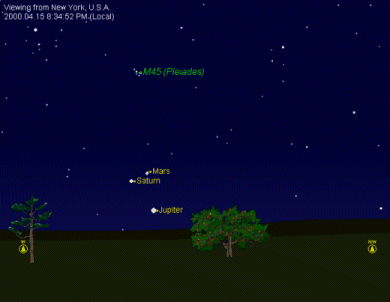 Four days later, Mars has moved as close as it will get to Saturn. No three planets will cluster this close together for the rest of the year. You will also notice that Jupiter and Saturn are closer to the horizon than they were at the same time four days ago. Jupiter and Saturn will continue to get closer to each other in April and May, but we will be unable to see it because they will be beneath the horizon by sunset.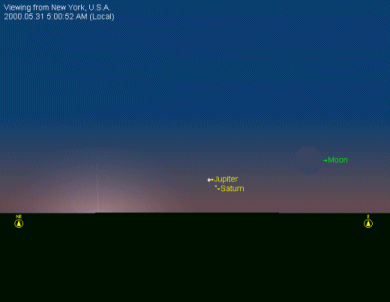 By mid-May, Jupiter and Saturn will begin to appear in the early morning sky in the east-northeast (Mars has long since moved on). Early birds will see Jupiter and Saturn at their closest on May31 just before sunrise, with a new moon thrown in as well.